Women's Ministry
SUNDAY MORNING
Current Study: PROVERBS by The Navigators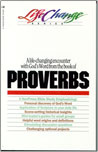 Christians have a lifelong goal: To become like Christ. This involves change, and change isn't always easy. But the more you know of God's purposes for you, the more you can experience His joy and participate in His plan. The LifeChange Series of Bible studies on books of the Bible can help you grow in Christlikeness through a life-changing encounter with God's Word.
The book of Proverbs contains a wealth of practical wisdom for everyday living. Its teachings are timeless, and they provide helpful guidelines on almost every aspect of personal conduct imaginable, including: goodness, folly, sin, wealth and poverty, the tongue, pride and humility, justice, vengeance, strife, gluttony, love, lust, laziness, friendships, the family, life, and death.
Meet us in room 207 in Dodson Hall or click the Zoom link here to join us this Sunday (both options are being made available).
October 3: Wisdom's Benefits
October 10: Wisdom's Benefits continued
October 17: The Futility of Folly
October 24: God and Man
October 31: The Family
November 7: Friendship
November 14: Sexual Purity
November 21: The Blessings of Righteousness
November 28: Humility Versus Pride
December 5: Hard Work Versus Laziness
December 12: Proper speech
December 19: Emotions
December 26: Wealth and Poverty
January 2: Life and Death
January 9: Looking back
TUESDAY NIGHT
Women's Life Group
Beginning with Genesis 12, walk alongside the fathers of our faith--Abraham, Isaac, Jacob, and Joseph--to discern Jesus in the stories of His people. Over 10 sessions, discover how God orchestrates everything for His glory and the good of His people, and see how the God of creation and covenant is the same yesterday, today, and forever.

Join us on Zoom from 6 - 8 PM by clicking here. On October 5 (and afterward), we will be meeting in B202 and on Zoom.
September 28: Sibling Rivalry (Genesis 25:19-28)
October 5: Exile and Reconciliation (Genesis 29-33)
October 12: Trouble at Shechem (Genesis 34-36)
October 19: Joseph in Egypt (Genesis 37-41)
October 26: Joseph Over Egypt (Genesis 42-47)
November 2: The Deaths of Jacob and Joseph (Genesis 48-50)